House Calls (Currently unavailable and not accepting house calls at this time)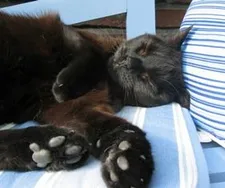 House calls are a great option to consider when seeking veterinary care for your pet. House calls help minimize stress to pets making a visit with the vet a much more enjoyable experience. Schedule a visit when it is convenient for you. House calls are perfect for busy parents, individuals that work full days, the elderly, or those with mobility or transportation concerns. Weekend house call availability can be limited due to our vaccine clinic schedule.
Don't spend any more time in crowded, noisy waiting rooms at the vets. A house call allows the doctor to have time to focus on you and your pet without having to rush through the visit to get to the next appointment. Most appointments last about one hour so feel free to ask questions and discuss any concerns you may have with the doctor.

Small animal house calls can be scheduled by completing an appointment request form, or emailing [email protected]. Our primary service area is Salem, Portland, and the surrounding communities. However, any location will be considered and a fee schedule can be discussed based on mileage. See our Services and Prices page for more information. See our vaccine clinic calendar for specific dates. An estimate for any recommended diagnostics or treatments will be given following the examination. We no longer provide house calls in the Washington area.
If you're pet is shy please confine it to a kennel or small room before our arrival. If you're pet can not be located within 20 minutes of our arrival we will have to leave for the next appointment and you will still be charged the house call fee for our time and travel.
If your pet may be aggressive please notify us when you schedule the appointment. We try our best to work safely with all pets but we reserve the right to refuse service if your pet presents a significant danger to our doctor or staff. If an exam can not be performed safely you will still be charged the house call fee for our time and travel.
At this time OMVS can not offer anesthesia, dentals, surgery, radiology, or ultrasound through our mobile clinic. Please let us know any concerns you may be having with your pet when you schedule the appointment. If there are any additional diagnostics or treatments your pet requires that OMVS can not provide we will refer you to the nearest full service practice.
You can complete a New Client and if needed Additional Pet forms to lessen time spent doing paperwork during the house call.