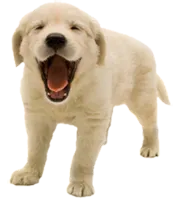 When you come to our vaccine clinic you will be greeted by our receptionist who will create a patient record for your pet. You can also download a copy of our new client form and additional pet form, if needed, to fill out and bring with you to save time on check in.
If your pet has a known vaccine allergy please notify the receptionist when you are checking in. The doctor may recommend an injection before giving vaccines to reduce the risk of a reaction. Always watch your pet closely following any vaccinations for symptoms of a vaccine reaction. See our vaccine reactions page for more information on vaccine reaction symptoms and what to do if you think your pet is experiencing a vaccine reaction.

After you have checked in a nurse will take a brief patient history and get your pet's weight and temperature. They will ask what vaccinations you would like for your pet. If you are not sure what vaccines your pet needs the nurse or doctor can answer any questions and recommend the best vaccine protocol for your pet.

Our doctor will then perform a brief exam to ensure your pet is healthy enough to be vaccinated. Sick, injured, or pregnant pets can not be vaccinated. Our vaccine clinic service does not carry any prescription medications, controlled drugs, and very limited diagnostic equipment. If your pet has any health concerns that need to be addressed we will be happy to recommend a full service veterinary clinic near by.

The vaccines are stored in a refrigerator to maintain them at the proper temperature. Every vaccine is drawn up in a new syringe at the time you request it. After being drawn into the syringe the needle is changed to a new smaller gauge needle. This reduces the pain your pet may experience with the injection, most of our patients do not even notice the injection. Used needles are safely disposed of in a sharps container and syringes are discarded.

Every vaccine is given in a specific location to help identify the cause of any localized reactions. While we would love to see every pet fully vaccinated we understand that cost is often a factor so we would be happy to recommend a vaccine schedule that works with your budget.